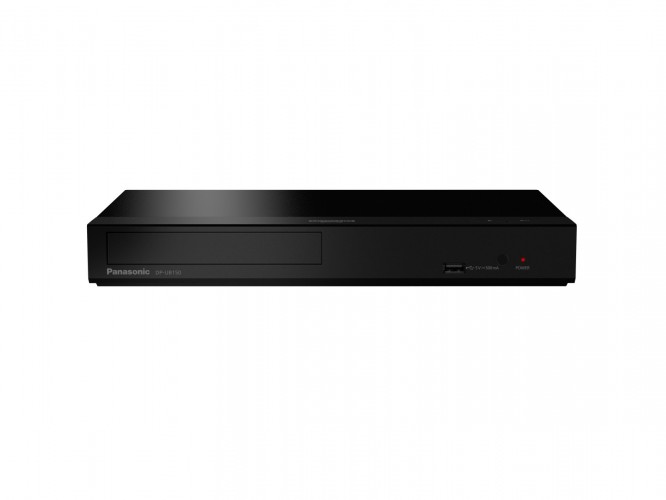 Two new Ultra HD Blu-ray players with support for HDR10+ dynamic metadata (UB150/UB450) and Dolby Vision (UB450)

Compatibility with Dolby Atmos® [DTS:X] home cinema sound systems

Support for wide range of media formats gives maximum flexibility
7th January 2019 – Panasonic today announced the launch of its latest Ultra HD Blu-ray players, the DP-UB150 and DP-UB450 series, with both models supporting HDR10+ dynamic metadata technology and the UB450 series also offering Dolby Vision. By optimising the brightness of each image, scene by scene, these cutting-edge HDR formats faithfully reproduce HDR images that faithfully match the creator's original intentions. Thanks to these image-optimising technologies, both the DP-UB150 and DP-UB450 series deliver a highly cinematic experience with richly textured images.
Both players feature Dolby Atmos compatibility, enabling you to enjoy an exceptionally immersive 3D soundstage with a compatible audio device such as a TV, soundbar or AV receiver. In addition to conventional surround sound, Dolby Atmos uses height channels to precisely place sound effects or the sounds of individual objects at or above ear level. Paired with an audio system that can decode Dolby Atmos, the result is breathtaking movie sound from the UB450 and UB150 series.
The addition of the UB450 and UB150 series to Panasonic's UHD Blu-ray family follows the recent launch of the highly acclaimed 'EISA High-end UHD Blu-ray Player 2018-2019' reference model, the UB9000 Series.
Stunning picture quality from 4K/HDR content
Support for HDR10+ dynamic metadata technology and Dolby Vision
Both players feature HDR (high dynamic range), which has a wider, brighter dynamic range than conventional SDR (standard dynamic range) to produce more natural, more lifelike images when viewed on an HDR compatible TV.
More than that, both models are also compatible with HDR10+, the latest version of HDR, which uses 'dynamic' metadata to re-optimise the brightness continually throughout the movie rather than sticking to a single 'static' setting. The result is the ultimate home cinema experience, with even more dynamic, colourful and realistic HDR images that precisely match the creator's intention. In addition, the UB450 supports Dolby Vision, a similar alternative to HDR10+. With the UB450 UHD Blu-ray player and a compatible TV (such as the new Panasonic GZ2000) consumers are assured of seeing fully what the filmmaker intended, regardless of which dynamic HDR format has been used.